Tennis Elbow Manager 2
Tennis Elbow Manager 2 Free Download

About This Game
Become A Tennis Coach !
In this tennis manager game, you take control of a tennis coach and his player, and your goal is to reach the Number One ranking in the world, to stay there as long as possible and win as many Grand Slam titles as possible.
Play some Tennis !
The game also features a full 3D match engine, which lets you play tennis as you want in the Training Club.
In addition, you can optionally take the control of your player during the tournament 3D matches. A little warning though: the management part will get a bit unbalanced from this, as some skills will be of lesser importance when you play all by yourself.
The match engine is based on the Tennis Elbow 2013 one, already acclaimed by many players as the most realistic tennis game, but with a new & improved physics for the ball, court, strikes & players !
The AI is also greatly improved, with new player strategies and more realistic behaviors.
Globally, this gives an advanced tennis simulation, more realist but also more demanding than TE2013, even more faithful to the real tennis spirit, which will give you a hard time to master.
World Tour Features:
Men or Women Tour
3500 players evolving over 70 years, from 1973 for men & 1983 for women to 2042
More than 400 tournaments
The World Team Cup and the Masters Cup
Singles & doubles
Junior & Pro Tours
Up to 9 coached players
5 coaching difficulty levels
Full ranking system (like the entry one from ATP)
Choice between 3D match with real-time coaching, textual match, and instant result
Game is Modding friendly
3D Match Features:
9 different court surfaces : clay, green clay, grass, hard, blue-green hard, classic synthetic, NewLine synthetic, indoor hard and indoor synthetic; each with a specific rebound
6 difficulty levels, each split in 10 sublevels
3D male & female players fully customizable
Split screen
1 to 6 games per set, in best of 1, 3 or 5 sets
7 camera modes
Local Multiplayer:
You can play up to 4-human-player matches in the Training Club
In the World Tour, there's only 1 coach, but different human players can control different coached players when they play their 3D match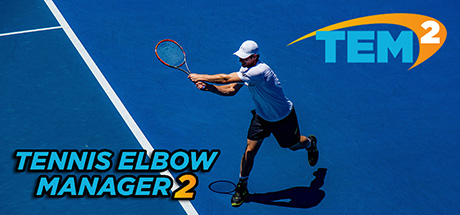 Reviews
"This is a game I enjoyed a lot"
Domingo (French Let's Play)
Title: Tennis Elbow Manager 2
Genre: Simulation, Sports
Release Date: 2 Jun, 2021
Early Access Release Date: 7 Jun, 2019
System Requirements
Minimum:

OS: Windows 10/8/7/Vista
Processor: 1 Ghz Intel Pentium IV or equivalent
Memory: 1 GB RAM
Graphics: DirectX 9 compatible 128-MB 3D card
DirectX: Version 9.0c
Storage: 750 MB available space
Recommended:

OS: Windows 10/7
Processor: 2 Ghz or faster Intel Core3 or AMD K10 processor
Memory: 2 GB RAM
Graphics: DirectX 11 compatible 1-GB 3D card
Storage: 1 GB available space
Minimum:

OS: Mac OS X 10.7 or later
Processor: iMac Intel 1.0Ghz
Memory: 1 GB RAM
Graphics: 128-MB 3D card
Storage: 750 MB available space
Recommended:

OS: Mac OS X 10.7 or later
Processor: iMac Intel 2.0Ghz
Memory: 2 GB RAM
Graphics: 1-GB 3D card
Storage: 1 GB available space
Free Download Tennis Elbow Manager 2
Full Game, latest version. Download for Free!

Tennis Elbow Manager 2 Free Download About This Game Become A Tennis Coach ! In this tennis manager game, you take control of a tennis coach and his player, and your goal is to reach the Number One ranking in the world, to stay there as long as possible and win as many Grand Slam…