Supersonic Fight
Supersonic Fight Free Download

About This Game
After your squad successfully defended the San Francisco Peninsula from an unknown enemy in September 1994, NORAD assigned the USS Enterprise to defend that location. For almost three decades, the nuclear-powered carrier and her crew patrolled the area without any threats. Congress became annoyed at the expense of the seemingly unnecessary deployment and gradually reduced funding until only a skeleton crew with out-dated hardware remained. The enemy, it turns out, is very patient.
Take to the skies and defend your homeland in thrilling high octane dogfights.
Key Features
Single player story – complete a variety of challenging story missions that put your piloting and combat skills to the test. Get to know your squadron and stay on the good side of your commanding officer, "Skipper".
Show off your aerial abilities in multiplayer – Dogfight (Deathmatch), Team Dogfights (Team Deathmatch), Capture the Flag, King of the Hill, Defend-and-Attack, and VIP
Explore the skies in Free Flight mode – Perform incredible maneuvers and stunts and explore the skies above San Francisco to your heart's content. Just watch out for the Golden Gate Bridge!
Enhance your experience with Virtual Reality – Be fully immersed in action-packed combat missions. Push buttons, pull back the throttle, move the stick and flick switches in your cockpit.
Fully HOTAS controller compatible – Feel like a pilot in your own home. Plug in your favorite flightstick and take to the skies.
Pilot a variety of aircraft – F/A-18C Hornet, MiG-29 and Air Force One. With many more to be announced!
Dust off your piloting skills in training tutorials – Even veteran pilots need practice flying new aircraft. Get to grips with the accessible control system with simple tutorials that will see you soaring through the skies in no time.
Steam Workshop integration – Create custom liveries and share them with the community
Powerful 80's inspired soundtrack – Composed by Bert 'D4XX' Bruggemann. It is heavily influenced by the work of Harold Faltermeyer, who is responsible for some of the greatest 80s soundtracks: Beverly Hills Cop, The Running Man and, of course, Top Gun.
Danger Zone
Survive deadly dogfights and scenarios in multiplayer. Put your team tactics to the test in capture the flag and King of the Hill modes, or go toe-to-toe in riveting deathmatches.
Dogfight and Team Dogfight – Classic deathmatch multiplayer modes where the goal is to get as many kills as possible. The person/team with more kills wins the game.
Defend and Attack – Team up to destroy or defend iconic San Francisco landmarks such as the Golden Gate Bridge, Alcatraz or the Palace of Fine Arts. The round ends when the target is destroyed or time runs out.
VIP – Players are divided into 2 teams. The "Escort Team" will have one player randomly selected as the VIP who will fly Air Force One which has limited maneuverability and countermeasures. The other players on the team must protect the VIP until they have reached their destination.
Capture the Flag – Each team attempts to force their way into the opponent's base to steal the flag and return it to their base, all while defending their own flag from capture.
King of the Hill – Take and hold a designated area for the longest time while the opposing team fights to take control of the location.
Take my breath away
Be completely immersed and sit directly in the cockpit with virtual reality, where you can interact with the stick and throttle, push buttons and flip switches in real time.
Customize your bird
Paint your aircraft, add markings, logos, and even text in our powerful in-game editor. Then share your creations or download skins via Steam Workshop.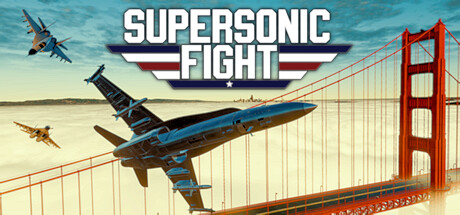 Title: Supersonic Fight
Genre: Action, Indie, Simulation
Developer:
Red Chain Games Ltd.
Publisher:
Red Chain Games Ltd.
Release Date: 2024
System Requirements
Minimum:

Requires a 64-bit processor and operating system
OS: Windows 10
Processor: Intel Core i5-4590 or AMD FX 8350
Memory: 16 GB RAM
Graphics: nVidia GTX 1060 or AMD Radeon RX 480
DirectX: Version 11
Storage: 20 GB available space
VR Support: VR Supported
Additional Notes: Please note: these specs will change as development progresses.
Recommended:

Requires a 64-bit processor and operating system
Free Download Supersonic Fight
Full Game, latest version. Download for Free!

You Might Also Like:
Supersonic Fight Free Download About This Game After your squad successfully defended the San Francisco Peninsula from an unknown enemy in September 1994, NORAD assigned the USS Enterprise to defend that location. For almost three decades, the nuclear-powered carrier and her crew patrolled the area without any threats. Congress became annoyed at the expense of…