Roundguard
Roundguard Free Download

About This Game


An all-round bouncy adventure! If you love roguelikes & Peggle, then Roundguard is for you.
Castle Springbottom is under attack and it's up to the Roundguard to save the king and — more importantly — recover his gold! Fling your hero into the face of danger and bounce off hordes of dangerously cute monsters to reach the bottom of the dungeon. You only have one life, so you'll need to learn how to navigate the dungeon's hazards, master your hero's skills, and make strategic choices if you hope to defeat the final boss. But don't worry, the Roundguard always bounces back!
Bouncy Fun: Intuitive pinball physics based gameplay like no other dungeon crawler.
Multiple Classes: Play as the Warrior, the Rogue, the Wizard, or the Druid each with their own unique skills, items, and cheeky sense of humor.
Randomized Dungeon: Each time you play, the world map and every level are procedurally generated, and quest events and elite monsters are randomly placed. It's a new experience every time.
Permadeath with Benefits: Each time you die, you'll have a chance to bring a special trinket with you on your next run to help even the odds. The more gold you grab before dying, the better your chances to collect one of the most powerful trinkets for your next run.
A Cast of Oddballs: Chat with the castle's colorful cast to pick up quests and learn why some rats want their king dead, what's irritating the local teenage skeleton today, or what the Warrior will do if you can't get to a bathroom quickly enough.
Lots of Loot: Over 200 items and trinkets, each with effects that present strategic choices and combo possibilities. Rare and legendary items have randomly chosen bonus properties, so each one feels special.
Show Off Your Skills: Compete on the leaderboards and try to master all the challenging, rule-bending relics. Test yourself in the daily and weekly challenges to earn new rewards and bragging rights. Earn all the Encore roses in an escalating series of difficulty ranks for each hero.

Join our Discord to chat with the devs and swap RPG memes!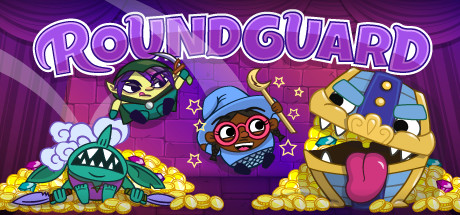 Reviews
"Medieval, roguelike Peggle is the perfect distraction from a global crisis"
Evan Lahti, PC Gamer
"Roundguard is exactly what it claims to be — but also somehow even better."
Andrew Webster, The Verge
"Roundguard is basically Peggle turned into a dungeon-crawling role-playing game. In other words, it's my jam. A clever concept implemented in a charming fashion."
Mike Fahey, Kotaku
Title: Roundguard
Genre: Casual, Indie, RPG, Strategy
Developer:
Wonderbelly Games
Publisher:
Wonderbelly Games
Release Date: 13 Mar, 2020
System Requirements
Minimum:

OS: Windows 7 or later
Processor: 1.85 GHz Dual Core
Memory: 1 GB RAM
Graphics: Intel HD Graphics 5000 or better
Storage: 300 MB available space
Free Download Roundguard
Full Game, latest version. Download for Free!

Roundguard Free Download About This Game An all-round bouncy adventure! If you love roguelikes & Peggle, then Roundguard is for you. Castle Springbottom is under attack and it's up to the Roundguard to save the king and — more importantly — recover his gold! Fling your hero into the face of danger and bounce off…