Nippon Marathon
Nippon Marathon Free Download

About This Game
San! Ni! Ichi! Hajime!!! Stretch your muscles and embark upon the ultimate marathon of Japan in a raucous ragdoll party multiplayer racer where anything can happen. Hurdle barrels, outrun Shiba Inu and dive out of the paths of bicycles – all while chucking fruit at your opponents and dashing across planks precariously balanced over waterfalls – in an unreal experience that must be played to be believed.
Features
Four-player drop-in/drop-out madness!
Solo play is supported, but grab up to four pads and enjoy the supreme silliness of gaming's greatest marathon. Need a bathroom break to brush pineapple juice off your onesie? Random pedestrian passing by your couch and wants to play? Whatever the cause, hop in and out for the ultimate party get-together!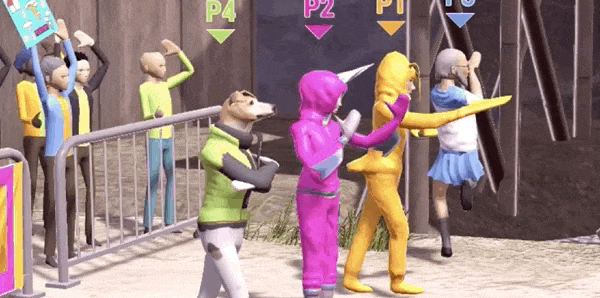 Experience surprises galore in a race across all of Japan!
Cross the land of Nippon in a series of creative levels spanning busy city streets, narrow old streets, bustling markets, mountaintop shrines and even the top of a bullet train! You never know what will happen next in Nippon Marathon. Perhaps you'll find time for an impromptu spot of slot machine fun? Maybe a news anchor will jetpack in to interview you on the racetrack? Heck, anything is possible…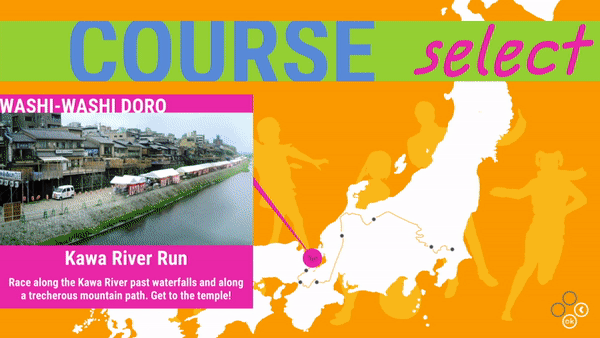 An expansive story mode with a bizarre cast of characters!
Climb the ranks from rookie runner to marathon master. Experience the stories of lobster-man J DARWIN, narwhal enthusiast Elizabeth Nishibori, old uncle sailor Zenbei "XEN BAE" and wannabe dating-agency owner Snuguru Maestro, all while revealing the shady secrets of the unseen forces at play behind the Nippon Marathon. Can you beat the returning ten-time champion Handsome Hazuki and his cronies?

Chill out with some Party Games!
Some people like bird watching. Some people like a lazy Sunday afternoon drive. Some people like to throw themselves into a trolley, and smash head-first into man-sized bowling pins! Set your shopping trolley's position, take a running jump, wince as you hurtle towards random hazards and pray you don't end up in the emergency room. Mastered the Turkey in bowling? Then take on the L.O.B.S.T.E.R gauntlet! A precariously narrow, randomly generated assault course. Swinging hammers, pneumatic boxing gloves, and irate American footballers conspire to knock you into the drink!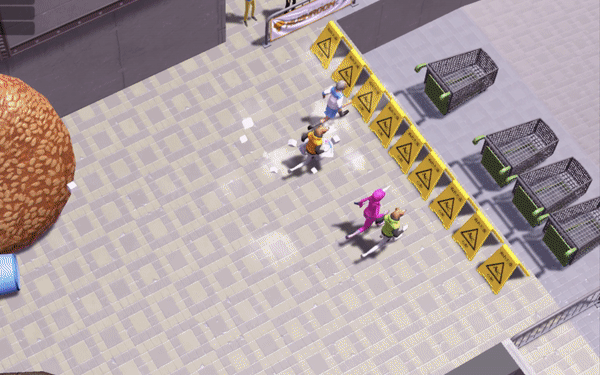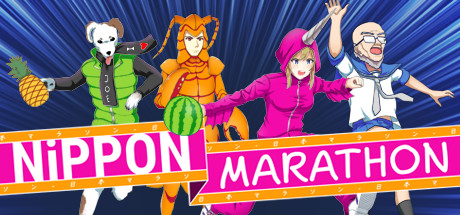 Reviews
"Nippon Marathon is all about fun, fun, and some more fun. Throw yourself broad-mindedly into the craziness!"
80 – DarkStation
"A ridiculous bakage game that's a ton of fun with friends."
Video Chums
Title: Nippon Marathon
Genre: Indie, Racing, Sports
Developer:
Onion Soup Interactive
Release Date: 17 Dec, 2018
System Requirements
Minimum:

OS: Microsoft Windows 7 Home Premium 64-Bit
Processor: Intel Core i3-2370M
Memory: 4 GB RAM
Graphics: Intel HD 4000 Graphics
Storage: 5 GB available space
Recommended:

OS: Microsoft Windows 7 Home Premium 64-Bit or higher
Processor: Intel Core i5-2300 or AMD Phenom II X4 940 or better
Memory: 8 GB RAM
Graphics: NVidia GeForce Gtx 970
Storage: 5 GB available space
Minimum:

OS: OSX
Processor: 1.4 GHz dual-core Intel Core i5
Memory: 4 GB RAM
Graphics: Intel HD Graphics 5000
Recommended:

OS: OSX
Processor: 1.8 GHz dual-core Intel Core i5
Memory: 8 GB RAM
Graphics: Intel HD Graphics 6000
Free Download Nippon Marathon
Full Game, latest version. Download for Free!

Nippon Marathon Free Download About This Game San! Ni! Ichi! Hajime!!! Stretch your muscles and embark upon the ultimate marathon of Japan in a raucous ragdoll party multiplayer racer where anything can happen. Hurdle barrels, outrun Shiba Inu and dive out of the paths of bicycles – all while chucking fruit at your opponents and…