Blazing Sails
Blazing Sails Free Download

About This Game
Explore different game-modes!
In Treasure Hunt you and your crew must search islands for treasure chests! Treasures can be turned in at one of the 2 outposts at the centre of the map in exchange for gold. Get more gold than your enemies to win!
Our Battle Royale offers a unique take on the genre. Enjoy a dynamic mix of swashbuckling on dry land and epic naval battles! Sink every other crew to emerge victorious.
Tired of looting? No problem! Jump straight into the action in our all new Galleon Conquest game mode. Experience movie-like broadside battles with a HUGE Galleon! Frag pirates, sink other ships and capture flags to win!
Part of the ship, part of the crew
Who knew being a pirate actually takes teamwork? Well, it does! Along with your fellow crew members you'll need to steer, repair and re-supply your ship while besieging enemy crews. Communication and cooperation are essential to secure a victory!
Choose your vessel!
A variety of ship types offer distinctly different play styles for your crew. The Brigantine is the classic – with a hull that can take a pounding and some serious firepower. The Junk Ship is smaller, faster and packs a front-facing cannon for daring head-on assaults! The Bomb Vessel is especially powerful at long distances with its unique mortar cannon. For the smaller crews there's a 2-player Sloop. But don't let its size fool you! The Sloop can easily go toe to toe with the bigger 4-player ships.

Equip a variety of legendary pirate arrrms
Change your playstyle based on the weapons you plunder. Take to the crow's nest with your trusty sharpshooter, or board an enemy ship with the legendary life-stealing Sword of the Sea! Like something more explosive? Try the shoulder-cannon or fish-launcher. To each their own!
Build-A-Buccaneer
No two ships or pirates are the same! Show off your booty with a swath of customisable parts, clothing and accessories – embroidered jackets, gilded hulls, golden peg legs – you'll get real fancy, real fast!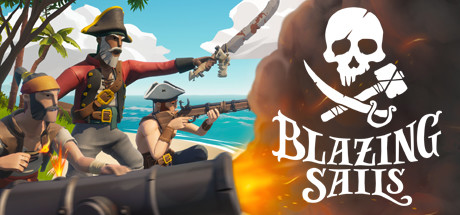 Reviews
"I love it dude, I'm having so much fun man. I'm having so so much fun."
Burgerwarrior24
"A swashbuckler showdown the likes of which no other battle royale has ever delivered."
The Escapist
"It's like Sea of Thieves Arena had a child with Totally Accurate Battle Simulator and Apex Legends."
Captain Falcore
Title: Blazing Sails
Genre: Action, Adventure, Casual, Indie, Early Access
Publisher:
Iceberg Interactive
Franchise:
Iceberg Interactive
Release Date: 5 Nov, 2020
Early Access Release Date: 9 Sep, 2020
System Requirements
Minimum:

OS: Windows 7
Processor: Intel Core i3 or equivalent
Memory: 4 GB RAM
Graphics: Nvidia GeForce GTX 550 Ti or equivalent
DirectX: Version 11
Network: Broadband Internet connection
Storage: 5 GB available space
Additional Notes: For Low graphics quality at 720p
Recommended:

OS: Windows 10
Processor: Intel Core i7 or equivalent
Memory: 16 GB RAM
Graphics: Nvidia GeForce GTX 1060 or equivalent
DirectX: Version 12
Network: Broadband Internet connection
Storage: 5 GB available space
Additional Notes: For High graphics quality at 1080p
Free Download Blazing Sails
Full Game, latest version. Download for Free!

You Might Also Like:
Blazing Sails Free Download About This Game Explore different game-modes! In Treasure Hunt you and your crew must search islands for treasure chests! Treasures can be turned in at one of the 2 outposts at the centre of the map in exchange for gold. Get more gold than your enemies to win! Our Battle Royale…